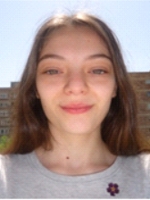 Nune Chaloyan
Competitor in Skill: Mechatronics
Country: Armenia
How did you get interested in your skill?
I've got interested in my skill from internet.

Where did you do your training for your skill?
I do my trainings at Festo company.

How did you first find out about your Member organization and its programs?
I heard about our Member organization from my college.

Who influenced you to pursue your skill as a career?
It was my parents influence.

What is your experience in participating with your Member organization?
This is the first time.

Describe your most memorable moment so far with WorldSkills?
My most memorable moment was the WorldSkills Armenia closing ceremony.

Describe what your experience has been since your involvement with WorldSkills
I have no experience before this.

Did participating in the skills competitions and training for WorldSkills help you progress in your skill? Please describe.
Participating in the skills competitions and training for WorldSkills helped me to have a progress in my skill.

What do you currently do? Where do you work?
Now I am a student in Yerevan State college of informatics. I don't work.

What are your future career aspirations?
I would like to be professional in this trade.