Opening and Closing Ceremonies: Two special shows!
1 July 2015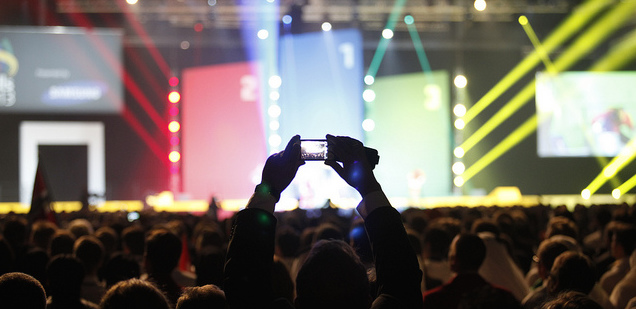 Preparation for the Opening and Closing Ceremonies of WorldSkills São Paulo 2015 is full steam ahead. The programme has been confirmed and made public, but there will also be many incredible surprises for the audience.
A quick look at the Opening Ceremony
The Competition Organizer has prepared a great show to transform the Opening Ceremony of WorldSkills São Paulo 2015 into an unforgettable celebration. The show will demonstrate the influence that five continents have had upon language, arts, music, dances, cuisine, and industry in Brazil, through a performance with over 400 dancers combined with special image, sound, and lighting effects. All of the Brazilian regions - North, Northeast, Midwest, South, and Southeast - will be represented with their landscapes, abundant natural resources, and regional culture during the ceremony. Everyone will have the opportunity to get to know how the efforts of immigrants from around the world have contributed to Brazil's history and future as a successful country. The Opening Ceremony takes place at Ibirapuera Gymnasium on Tuesday, 11 August, from 19:00 to 21:30.
A quick look at the Closing Ceremony

The Closing Ceremony will create an extraordinary atmosphere for the most important and memorable moment in the entire event: the medals awarded to Competitors for their effort and dedication. The celebration will be magical - filled with interactive and entertaining illusions and performances, live interviews, and lots of music. We will enjoy the retrospective video, looking back at the entire Competition, and we will also get to learn a bit about Abu Dhabi, the host city for the 44th WorldSkills Competition in 2017. The final performance also promises to involve the audience with very traditional Brazilian music. The evening will be filled with surprises, laughter, and excitement! The Closing Ceremony will be held on Sunday, 16 August, from 17:00 to 20:00 at Ibirapuera Gymnasium.
While it may not be possible for everyone to attend Opening or Closing Ceremonies, both will be live streamed, as well as saved for viewing at another time. You will be able to find the link to the live stream from the WorldSkills Sao Paulo 2015 website: http://www.worldskillssaopaulo2015.com/en/

Watch the website for more information coming soon!
---
Related News
Sep 11, 2014, 9:56 PM
On 2 September, during a meeting led by Robson Braga, President of the National Confederation of Industry, Simon Bartley and…
May 29, 2014, 8:57 PM
The São Paulo Convention & Visitors Bureau, which represents several segments of São Paulo's tourism sector, held a meeting on…
Jul 10, 2014, 9:44 PM
On 3 July, members of the Competition Organizer in São Paulo presented the "One School One Country" programme during a meeting…
Press Team
Brazil press contacts
Karina Brandford: +55(11) 7850-8269 / ID. 80*848
Marina Figueira: +55(11) 7741-0991 / ID. 80*180636
Lívia Nolla: +55(11) 7850-7232 / ID. 80*1148
Gustavo Silva: +55(11) 7850-8948 / ID. 80*1065
Email: imprensa.ws@wssp2015.com
International press contact
Laura London, Communications Manager, WorldSkills International
Email: press@worldskills.org

Answers to frequently asked questions: