13 August 2015: Exploring Skills Excellence
SOLD OUT
Day at a glance:
| | | | |
| --- | --- | --- | --- |
| | Event | Host | Times |
| Morning session | WorldSkills Leaders Forum - the Future of Skills Development and Excellence | WorldSkills | 08:30-13:15 |
| Afternoon session - option 1 | VIP guided tour of the WorldSkills Competition | WorldSkills | 13:30-15:30 |
| Afternoon session - option 2 | Brazil-Africa Skills Development Exchange Workshop | World Bank | 14:00-17:00 |
Morning Session
WORLDSKILLS LEADERS FORUM - THE FUTURE OF SKILLS DEVELOPMENT AND EXCELLENCE

Our society is evolving at a rapid rate. Processes are changing, tools are improving, and many industries are becoming obsolete. To sustain success, organizations and workers must constantly seek to innovate. Join world-class futurist and expert on innovation and trends, Jim Carroll, as he explores the possibilities to improve our world with the power of skills. This presentation will be followed by a panel of WorldSkills Champions who will offer their insight by responding to Jim Carroll's presentation.

Location: Jequitibá Room - Holiday Inn Hotel
Emcee and Moderator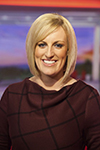 Stephanie McGovern, BBC Journalist
Award winning business presenter, Steph McGovern has been working in financial journalism for over 10 years and has been part of the BBC Breakfast family for the last two. Steph travels all over the UK to cover economic and business news for the BBC and since joining Breakfast has broadcast live from over 200 businesses. Whether she's talking to workers in factories or interviewing FTSE 100 Chief Executives in the studio, Steph makes it her mission to find out what's going on in the real economy. Along with her daily news duties, Steph is also involved in BBC community projects, such as BBC School Report. She is a school governor in Teesside and regularly runs workshops for schoolchildren around the north east. And when she's not talking money or media, Steph is a former champion Irish dancer and still keeps her foot in, often attending international competitions, where she helps to coach dancers.
Keynote Speaker


Jim Carroll: Futurist, Trends and Innovation Expert
Jim Carroll is one of the world's leading international futurists, trends, and innovation expert. He is known for providing strategic guidance and insight to some of the most prestigious organizations in the world for over twenty years. Jim provides unique, detailed, customized insight into workplace, business, economic, current events, social and cultural trends, as well as into demographic, lifestyle and technology issues, based on highly original research. He has a track record of inspiring organizations to reframe the opportunity for innovation in the context of significant, transformative change.
Jim is recognized as a "thought leader" and authority on: global trends, rapid business model change, business transformation in a period of economic uncertainty and the necessity for fast paced innovation. During his presentations he wakes people up to the trends that will affect them, and challenges them to cope with a world that continues to witness constant, dramatic change.
Jim is also an author, with books including ' The Future Belongs to Those Who Are Fast,,; 'Ready, Set, Done: How to Innovate When Faster is the New Fast'; and 'What I Learned From Frogs in Texas: Saving Your Skin with Forward Thinking Innovation'.
WorldSkills Champion Panellists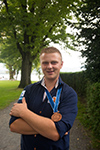 Lucq Post, Landscape Gardener, Netherlands
Lucq Post has a passion for creating environments. He studied landscape gardening and was thrilled to represent the Netherlands in the Landscape Gardening competition at WorldSkills Leipzig 2013. Following his WorldSkills experience, Lucq pursued further education in Environmental Studies. His passion for creating environments and studying their impact on the environment led Lucq to start his own landscape gardening business. Lucq is an active member of the Skills Netherlands Alumni and a Member of the WorldSkills Champions Trust, where he brings passion, ideas, and humour to every situation.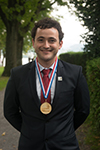 Victor Simon, Mechanical Engineer, France
From a young age, Victor Simon has been intrigued by machines that are able to operate on their own. They could be model trains or cars, but they all interested him and he needed to see how they were constructed and worked. The machines have become a resource library for his future designs. Victor has competed in numerous regional and National competitions in France as well as competing at WorldSkills Leipzig 2013 in Manufacturing Team Challenge. Victor maintains an active role in the WorldSkills community as a member of the France Alumni, member of the WorldSkills Champions Trust and he also coaches future robotics and mechatronics Competitors.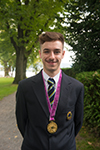 Ricardo Vivian, Graphic Designer, Brazil
Ricardo Vivian was a Competitor at the 42nd WorldSkills Competition in Leipzig, Germany in 2013. He competed in Graphic Design Technology and was awarded the gold medal. At the end of 2013, Ricardo decided to move to Sydney, Australia to help improve his English. He began working as an Art Director in a publishing house where he was responsible for the design of two magazines. Ricardo has found that common interests and goals can help join people from different cultures together. A good example is the WorldSkills Champions Trust project that he has been collaborating on. This project gives him the opportunity to work with top professionals from different areas, cultures, and countries.

Katie Wright, Beauty Therapist, United Kingdom
Katie Wright has been involved in WorldSkills since 2009 on both a National and International level. She has competed in regional and national competitions in Beauty Therapy. Katie Wright earned her spot to represent Team UK at WorldSkills Leipzig 2013 and received a Medallion for Excellence. Katie currently works at a beauty salon in Cambridge, UK. She runs a training academy in eyelash extensions, and she stays actively involved as a judge, trainer, mentor for WorldSkills UK Competitions, and is a member of the WorldSkills Champions Trust.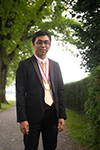 Muhammad Sufyan Zainalabidin, Mechanical Engineer, Singapore
Sufyan participated in the 39th WorldSkills Competition held in Shizuoka, Japan in November 2007. He became the first Singaporean to strike gold in the skill competition of Mechanical Engineering Design - CAD (Computer-Aided Drawing). Sufyan has completed a BSc in Mechanical Engineering at Nanyang Technological University of Singapore. Sufyan was selected to help pioneer the WorldSkills Champions Trust (WSCT) initiative. Sufyan hopes that with the WorldSkills Champions Trust, Champions become more actively engaged beyond the Competition, creating a sustainable future with continuous knowledge sharing and skills.
Afternoon Session
GUIDED VIP TOUR OF THE COMPETITION
This Guided VIP Tour of the Competition has been designed for WorldSkills Leaders Forum participants to ensure they have an enhanced and unique experience. Through a planned itinerary through the six sectors in the Competition, we intend to promote a better understanding of the WorldSkills Competition and skills.
• Schedule: 14:00
• Groups of 20
• Duration: 2 hours
• Meeting point: Jequitibá Hall - Holiday Inn Hotel
Afternoon Session
BRAZIL-AFRICA SKILLS DEVELOPMENT EXCHANGE WORKSHOP
In order to reap the full benefits of economic growth, sub-Saharan African (SSA) countries need to curb unemployment and reduce poverty, which will in turn result in an increased consumer base that will support further growth. All SSA countries have institutions in place to provide technical and vocational education and training (TVET), operating in a variety of organizational setups and there is broad consensus that most national TVET systems can be improved through targeted policies. SENAI is Brazil's largest TVET institution and one of the largest in the world. SENAI exchanges TVET expertise with analogous institutions in the African continent.
Location: Elis Regina Auditorium - Convention Palace
Speakers
Felipe Morgado, Executive Manager for technical and technological education at SENAI's headquarters in Brasilia
Morgado has a career in education, planning, budgeting, and management, with experience in non-profit organizations, education institutions, and managing large federal government programmes. He holds a bachelor's degree in Management from the Brasilia Catholic University, an MBA in Financial Control and Finances, and a graduate degree in project management by the Getulio Vargas Foundation.
João Almino de Souza Filho, Director General of the Brazilian Cooperation Agency (ABC)
Marcelo Feres, Secretary of Professional and Techonological Education at the Ministry of Education
Marcelo Feres graduated from the Faculdade de Filosofia de Campos with a bachelor degree in Mathematics and holds Master degree in software engioneering from the Vrije Univesiteit Brussel, Belgium, and from the École des Mines de Nantes, France. Mr. Feres has served the Ministry of Education since 2008, in positions that include that of Director of Integration of Professional and Technological Networks.
Dr. Sajitha Bashir, Education Practice Manager for Eastern and Southern Africa Region of the World Bank.
She has over 15 years of operational and research experience with the World Bank, national and state governments in India and other donor agencies. Within the World Bank, she has worked in Africa, South Asia and Latin America, where her priorities have been leading policy dialogue, strategy development and designing and guiding education sector reform programs within the broader framework of fiscal and governance reforms. She has extensive experience in preparing and implementing projects at all levels of education. Prior to joining the World Bank, she worked as Chief Consultant for Research and Evaluation with the Government of India's national primary education program. She has a Ph.D. in economics from the London School of Economics and has published extensively.