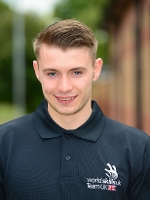 Robert Johnson
Competitor in Skill: Plastering and Drywall Systems
Country: United Kingdom
How did you get interested in your skill?
When I left school I went to work for my father's business as an apprentice. I hope one day to take over the family business.

Where did you do your training for your skill?
I trained at The Construction Skills Academy

How did you first find out about your Member organization and its programs?
When I was at Redcar and Cleveland College, they encouraged me to enter the WorldSkills UK Skills Competitions and I was invited to compete for a place in Squad and Team UK.


Who influenced you to pursue your skill as a career?
My father. He offered me an apprenticeship straight from school and I was inspired by my father's success. He built up the family business from scratch and I hope one day that I will take over the running of it.

What is your experience in participating with your Member organization?
I have been training with Squad and Team UK for four years and through WorldSkills UK I have trained with some of the best people in the industry.

Describe your most memorable moment so far with WorldSkills?
Getting selected for Team UK.


Did participating in the skills competitions and training for WorldSkills help you progress in your skill? Please describe.
Being involved with WorldSkills has developed me as a person. Through the training I have received I am much more confident and my skills have improved greatly.

What do you currently do? Where do you work?
I work for my family business Classic Plaster Moulds.

What are your future career aspirations?
I want to be a world champion at WorldSkills and use my experience gained from being part of Team UK to grow my family business.