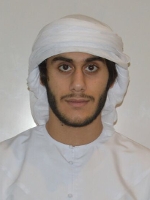 Abdulla Bin Doei
Competitor in Skill: Mobile Robotics
Country: United Arab Emirates
How did you get interested in your skill?
- When I found my self seeking to learn more.
- I had been trained by my teacher and other students from other schools. I got some training sessions from professional professors

Where did you do your training for your skill?
- In my school robot club.
- I got a regular training session at my school and I participated on some competitions in Dubai, HIGHR COLLEGES OF TEHNOLOGIES FOR MEN AND SENAI SCHOOL.

How did you first find out about your Member organization and its programs?
- It was a school activity.
- I had been selected by my teacher and he told me about this competition.

Who influenced you to pursue your skill as a career?
- My school robot club trainer.
- I had been influenced by my teacher, parents and friends.

What is your experience in participating with your Member organization?
- Learnt to program different kind of programs.
- I got good experience, the trainers are highly qualified which helped us to learn and improve our skills.

Describe your most memorable moment so far with WorldSkills?
- Working with the Brazilian team was very interesting.
- I didn't think that we will win in ESC because we are the youngest two in the competition and the competitors have more skills than we have, so we are shocked when she called our names.

Describe what your experience has been since your involvement with WorldSkills
- Learn a lot of information about robots.

Did participating in the skills competitions and training for WorldSkills help you progress in your skill? Please describe.
- Sure, using new program and new robot items helped me to add more experience.

What do you currently do? Where do you work?
- Just graduated from school and going to the national service.