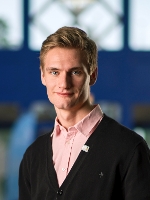 Jonas Frölander
Competitor in Skill: Information Network Cabling
Country: Sweden
How did you get interested in your skill?
Like new tasks that you will have to use both your head to think and your hands to execute the task.

Where did you do your training for your skill?
At the company that I work for, there I have a place where I have my wall and materials.

How did you first find out about your Member organization and its programs?
Very little in school at the high school. Than my expert called me if I wanted to compete in the Swedish competition.

Who influenced you to pursue your skill as a career?
My mom and dad mostly.

What is your experience in participating with your Member organization?
That it is a pleasure to be in Worldskills, eaven if it is hard and tough to train on the skill.

Describe your most memorable moment so far with WorldSkills?
When I was in Holland to observe and to compete in the speed-test of splicing fibers as fast as you can. Even if I hadn't practice on the fibers only the copper parts as data outlets. The fiber worked out really well.

Describe what your experience has been since your involvement with WorldSkills
I can just say that it is really nice and that all people would like to do this.

Did participating in the skills competitions and training for WorldSkills help you progress in your skill? Please describe.
Of course it helped a lot. First of all I went to courses that was involved in the skill, so that helped me to understand why we do things like we are.

What do you currently do? Where do you work?
I work at a large company that deals with, among other things, electrical, plumbing, climate and construction. The company's name is Caverion Sweden AB.

What are your future career aspirations?
Now my aim only is on the WorldSkills competition in Brazil, so we'll see what happens after.