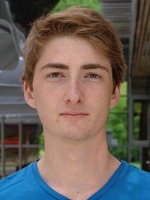 Joe Warling
Competitor in Skill: Industrial Control
Country: Luxembourg
How did you get interested in your skill?
I was asked to join the competition in my school.

Where did you do your training for your skill?
I trained for my skill in my school.

Who influenced you to pursue your skill as a career?
Myself, I'm very passionate about my skill.


Describe your most memorable moment so far with WorldSkills?
SwissSkills and EuroSkills were my most memorable moments so far.

Describe what your experience has been since your involvement with WorldSkills.
I have seen new perspectives to work with my skill, that I haven't met so far in my country.


Did participating in the skills competitions and training for WorldSkills help you progress in your skill? Please describe.
Yes, I have see a lot of improvement in my skill. I can work a lot faster and more efficient.

What do you currently do? Where do you work?
I am currently studying for a bachelor of electrical engineering.

What are your future career aspirations?
I am not exactly sure, at the moment, there are two different careers I would like to pursue. On the other hand, working as an industrial programmer in a company like Siemens seems very attractive. On the other hand, a career as a machine developer would interest me, too.