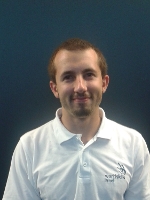 Piter Udachin
Competitor in Skill: CNC Milling
Country: Israel
How did you get interested in your skill?
I began graduate studies in preparation for professional school degree as practical mechanical engineer and during my studies I met the world skills competition


Where did you do your training for your skill?
At a school Shevach Mofet in Tel Aviv, at Carmel Zvulun school at Kibbuz Yagur, and at Education Training Center Shahak.


How did you first find out about your Member organization and its programs?
The teachers at the school gave information about the subject and asked who would be interested to participate in preparing for an event.


Who influenced you to pursue your skill as a career?
The teachers at the school, the instructors and staff of the training center.

What is your experience in participating with your Member organization?
Practice a lot and fun learning.

Describe your most memorable moment so far with WorldSkills?
Travel to Germany with the group for exercise, which included travel tours exhibitions industry undertake technologies industry specialization

Describe what your experience has been since your involvement with WorldSkills
Learning, deep interest and feeling of pride.


Did participating in the skills competitions and training for WorldSkills help you progress in your skill? Please describe.
Certainly, professional learning in the school includes many areas of knowledge. while enjoy the competition helped me improve skills, work under pressure and high standards..


What do you currently do? Where do you work?
Now I'm a student and I work in the Shahak Training Center in CNC milling.

What are your future career aspirations?
I intend to continue to work in the field of metal processing and manufacturing.