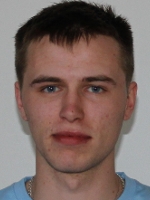 Donal Logan
Competitor in Skill: Plastic Die Engineering
Country: Ireland
Where did you do your training for your skill?
I started my training in Tooi&Gauge in Tubbercurry, Co. Sligo. I also trained in Shannon Co. Clare and Institute of Technology Sligo.


How did you first find out about your Member organization and its programs?
I first sound out in my training in IT Sligo before the regional exam when my lecturer Stephen Reid explained about the program and what it would entail.


Who influenced you to pursue your skill as a career?
My career guidance teacher in the secondary school that I attended advised me to take up a career in Plastic Die Engineering as it was the career that best suited my skills and strengths.


What is your experience in participating with your Member organization?
This is my first time to be giving the chance to represent Ireland and it's a great experience to get and it's great to meet the rest of team Ireland which comes from all over the country and we have all become friends, also when I get out there meeting all the other competitors from all over the world in plastic die engineering.


Describe your most memorable moment so far with WorldSkills? My most memorable moment has been meeting team Ireland.


Describe what your experience has been since your involvement with WorldSkills
The weeks leading up to the competition has put me under pressure and helped me deal with this pressure and only for world skills I would never have got the opportunity to develop my dealings with pressure to this level. I have improved on all my skills and I have developed so much over my training.


Did participating in the skills competitions and training for WorldSkills help you progress in your skill? Please describe.
Yes it did help me develop as I have got to work at my weaknesses and train hard to make me better than before at my skill. It has helped me deal with pressure, I have learned so much more in a short period of time that Iwouldn't have got the opportunity to develop so quickly if it wasn't for world skills. I have had an opportunity to work on machines which I may have not got to use at this stage in my career.


What do you currently do? Where do you work?
I am currently working in Tool & Gauge in Tubbercurry Co.Siigo in which I manufacture and produce world class injection moulds. Iwould be ranging from CNC milling machines, wire erosion, spark erosion and C&M machines and the assembly of moulds.
Tool and Gauge provides injection moulds, mould manufacture and precision engineering combined with innovative product design and development which also has moulding facilities.


What are your future career aspirations?
I would like to grow within Tooi&Gauge and increase my skill to the highest possible standard in every area of Plastic Die Engineering, I would also someday like to branch into design as this competition has started me in design and I would like to pursue this area in the future.