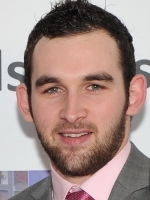 David Morgan
Competitor in Skill: Carpentry
Country: Ireland
How did you get interested in your skill?
My grandfather always had me messing around with wood.

Where did you do your training for your skill?
Dún Laoghaire Further Education Institute, Dún Laoghaire, Co. Dublin, Ireland.

How did you first find out about your Member organization and its programs?
Pat Noonan introduced me to the competition during my Phase 4 apprentice training in September 2012.

Who influenced you to pursue your skill as a career?
My family.

What is your experience in participating with your Member organization?
2013 - 3rd in the Irish National Final.
2015 – First in the Irish National Final

Describe your most memorable moment so far with WorldSkills?
Being selected as a member of the Irish team.

Describe what your experience has been since your involvement with WorldSkills
I am training at a high level in the geometry and the manufacture techniques of WorldSkills standard carpentry. I am learning new skills and new roofing geometry and producing work to a tight tolerances. The work is very demanding and I have to give it my full attention. I have to concentrate and avoid distractions to produce my best standard. I…..

Did participating in the skills competitions and training for WorldSkills help you progress in your skill? Please describe.
Yes, it has made me produce better work. I am now a more efficient worker.

What do you currently do? Where do you work?
On-site work involving all aspects of Carpentry &Joinery. I work for P & L Carpentry.

What are your future career aspirations?
I plan to be the Irish Worldskills team trainer for the carpentry competition.