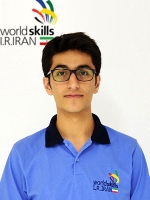 Mohamad Mohebifar
Competitor in Skill: Web Design
Country: Iran
How did you get interested in your skill?
I've always been completely taken by technology. I spent all my childhood being on a computer, looking for different stuff, software and tricks on the internet. I launched my very first blog at age 12 which was about technology, and this is how I started learning web design and development.

Where did you do your training for your skill?
Firstly, I used to work at home. However, I really believe that a good developer needs to be a good team player. Hence, after a while, I got employed in different companies on professional teams, and I've learned many things there.

How did you first find out about your Member organization and its programs?
One of my colleagues who was a competitor at WorldSkills 2009 told me about it.

Who influenced you to pursue your skill as a career?
My father used to be a hobbyist programmer and watching him working has always inspired and motivated me. Besides, in the tech-savvy world we live in, the web is growing day by day, and this is so promising.

Describe your most memorable moment so far with WorldSkills?
Getting the gold medal of National Skills Competition was the most memorable one. Being the one who gets this honour among thousands of competitors in a country is fantastic.

Describe what your experience has been since your involvement with WorldSkills.
It is simply fantastic. I think this is an opportunity to proof and examine my skills in a competition manner.

Did participating in the skills competitions and training for WorldSkills help you progress in your skill? Please describe.
With speed, it did. But technically not that much as there are some limitations in this competition and the competition just follows some specific instructions.

What do you currently do? Where do you work?
I work for the website of the most popular TV show in Iran. I'm also building an MVP for a startup in Berlin, Germany. I'm an open-source enthusiast too, so I create open-source projects and publish them on Github.

What are your future career aspirations?
Being a member of a professional team has always been one of my aspirations. It doesn't matter what my role will be, whether I'll be a team leader or not. The only thing that matters is the fact that you will have an impressive experience in a professional team working among a lot of talented people.