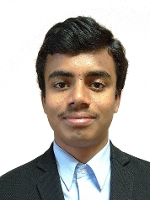 ABHISHEK BILAGUMBA SHANKARAIAH
Competitor in Skill: Prototype Modelling
Country: India
How did you get interested in your skill?
As per the guidance and suggestion from our trainers in the institute and with companies support I could able to create and develop my interest in the proto type modelling skill

Where did you do your training for your skill?
I started practicing my skill in company i.e. Toyota Kirloskar Motor Private Ltd. And later I got a specialised training in our parent company of Japan.

How did you first find out about your Member organization and its programs?
This is my life time achievement of appearing in National Skill Competition and there by getting a chance to appear for the mega event of World Skill Competition. The activity was good and unforgettable moment for me

Who influenced you to pursue your skill as a career?
My trainers and my superiors.

What is your experience in participating with your Member organization?
Feeling proud to be part of my company and my country.

Describe your most memorable moment so far with WorldSkills?
Announcement of my name during the National Skill competition has motivated me a lot and still cherishing me to do my best effort to secure the medal for my country.

Describe what your experience has been since your involvement with WorldSkills
I am getting a great support from company for doing my best performance in world skill for which they have allocated me for fully concentrate on the world skill activity. They have also motivated by sending my first abroad trip to my parent company and learn new things which can help to develop my skill.

Did participating in the skills competitions and training for WorldSkills help you progress in your skill? Please describe.
Definitely it is supporting me in regular day to day activities. Learning of new things and its applicability makes me stronger in my thinking and developed me to do challenging jobs.

What do you currently do? Where do you work?
I have associated with Toyota Kirloskar Motor Private Ltd. where I am working as a Team Member and currently undergoing my training at Japan.

What are your future career aspirations?
Become a role model for my juniors and set a bench mark in the World Skill Competition.