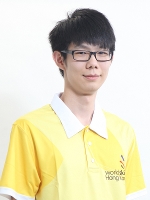 Ho Yin Chung
Competitor in Skill: Information Network Cabling
Country: Hong Kong, China
How did you get interested in your skill?
When I studying Higher Diploma in Telecommunication and Networking in IVE, the information and network cabling skill was introduced to me. I start get interest in my skill.

Where did you do your training for your skill?
Recently, I train in Hong Kong Institute of Vocational Education.

How did you first find out about your Member organization and its programs? I first find out about my Member organization and its programs were on internet.

Who influenced you to pursue your skill as a career?
My lecturer who introduced the competition to me is the one influenced me to pursue my sk ill as a
career.

Describe your most memorab le moment so far with WorldSkills?
Most recently, an invitational tournament was held in Guangzhou and it would be a memorable experience to have an exchange with other competitor before the WorldSkills .

Did participating in the skills competitions and training for WorldSkills help you progress in your skill? Please describe.
It really help me to build up my confidence and having a better time cont rol during the competition.

What do you currently do? Where do you work? I currently work in my training centre .

What are your future career aspirations?
I would like to continuous my career path in computing and networking.