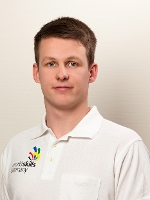 Dennis Behrens
Competitor in Skill: Concrete Construction Work
Country: Germany
How did you get interested in your skill?
Concrete Construction Working has a long tradition in my family . My great-grandfather has found a local building company, s ince then there have been a lot of construction trades in my alliance. From childhood on I was interested in construction work , like building houses or bridges .

Where did you do your training for your skill?
I have started training Concrete Construction Working with my trainees then I have continued it in special training for World Skills 2015 . Further more, I gather experience during my free time by doing additional work on building sites.


How did you first find out about your Member organization and its programs?
First I won the local championship and continued the national championship in Germany. After
that organization members asked me if I wo uld like to get qualified for World Skills 2015.

WHo influenced you to pursue your skill as a career?
My family influenced me positively in that decision. They are supporting me wherever they can.

What is your experience in participating with your Member organ ization?
My Member organization team consists of great people. I feel most welcome and it is like I am a team member from the first day on. Their profess ional work helps a lot feeling well prepared for World Skills 2015 . Iam really looking forwa rd this competition!

Describe your most memorable moment so far with WorldSkills?
First meeting with WorldSkills 2015 Team Members was really inspiring. After that I felt very
motivated for this competition.

Describe what your exper ience has been s ince your involvement with WorldSkills
I made good experience with WorldSkills , moreover they influenced my daily working routine. For instance, I implement some competitions in my daily work to accomplish them and get better prepared for WorldSkills 2015, every day.

Did partic ipating in t he sk ills compet itions and training for Wor ldSkills help you progress in
your skill? Please describe.
While participating competitions and training for World Skills 2015, I can collect important
experience in construction and team work as well as in project management. These issues could
be important for my future work as a concrete construction worker .

What do you currently do? Where do you work?
Currently I am achieving my univers ity-entrance diploma to be able to study c ivil engineering in the future . Besides that I am working in the company where I made my trainees hip.

What are your future career aspirations7
In the future I would like to graduate as a civil engineer and after that Iam going to work as a
construct ion manager . In my opinion WorldSkills 2015 are the first step for that career.