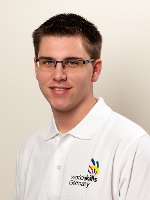 Lukas Prell
Competitor in Skill: Plastering and Drywall Systems
Country: Germany
How did you get interested in your skill?
My father work as a plasterer and so i get early interested in this art of work. I like the
handmade work to design houses and their rooms.

Where did you do your training for your skill?
I train several weeks in Leipzig , Leonberg, Ni.irnbe rg and Dusseldorf.

How did you first find out about your Member organization and its programs?
I find out about the Member organization by the participation in german national team of
plasterers. The team preparing us for the participation of international competitions.

Who influenced you to pursue your skill as a career?
My family and colleges support me to pursue my skill as a career.

What is your experience in participating with your Member organization?
I can't get many experience because we met us one time ago. But all people are friendly
and help us by all questions and problems.

Describe your most memorable moment so far with WorldSkills?
At the first meeting the competitors trained a samba music piece together. We are all
learned to play the different music instruments fast, because we all aim at the same target.

Describe what your experience has been since your involvement with WorldSkills
Although there was only one meeting so far it already arise friendships between the
different competitors.

Did participating in the skills competitions and training for WorldSkills help you progress in your skill? Please describe.
Yes, its help me to get better in my skill because after the different trainings I get faster
and professional and I learn to work under time pressure to stay calm in the competitions.

What do you currently do? Where do you work?
Currently I work as a master plasterer in my father's company.

What are your future career aspirations?
I would to educate further myself in my work as a plasterer. Additional I want to lead a own
company.