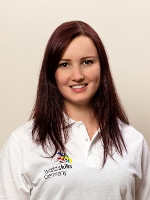 Marina Lugmeier
Competitor in Skill: Prototype Modelling
Country: Germany
How did you get interested in your skill?
I''ve always wanted to do something with crafts and technology. In this profession you do always something different and new. i'm building the products of tomorrow.

Where did you do your training for your skill?
I train daily at my job.


How did you first find out about your Member organization and its programs?
I got an email form the federal organization. I want to represent Germany.

Who influenced you to pursue your skill as a career?
My boss Peter Habich, he is also my Expert.

What is your experience in participating with your Member organization?
It's my first experience with this organization, but i am familiar with the German team.

Describe your most memorable moment so far with WorldSkills?
The moment when I heard that I can participate and when I met the German team.

Describe what your experience has been since your involvement with WorldSkills.
i am totally motivated and can't wait for the competition in Sao Paulo.


Did participating in the skills competitions and training for WorldSkills help you progress in your skill? Please describe.
So far, I have been able to make many contacts in the German team. i hop I can still get to know some of my colleagues in Sao Paulo.

What do you currently do? Where do you work?
I work at habich and martin. We build prototypes for vehicles, to check the design and test the aerodynamics.

What are your future career aspirations?
To be at WorldSkills among the best and then i will start my Master's certificate.