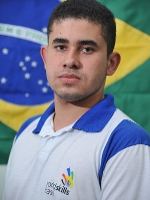 Danilo Oliveira
Competitor in Skill: Information Network Cabling
Country: Brazil
How did you get interested in your skill?
A modalidade era parte importante do curso de redes que fazia, pelo fato de ser pratico acabei me saindo bern e achando legal.

Where did you do your training for your skill?
Treino na mesma escola que me formei tecnico em redes de computadores, Escola SENAI Sui o Brasileira Paulo Ernesto Tolle, no bairro de Santo Amaro - Sao Paulo.

Who influenced you to pursue your skill as a career?
Meus pais que sempre me incentivaram e apoiaram a aprender mais e me desenvolver na area.

What is your experience in participating with your Member organization?
E alga incrlvel, principal mente par poder representar meu pals e minha profissao em um evento tao importante.

Describe what your experience has been since your involvement with WorldSkills
Tern sido uma experiencia muito boa. A rotina e urn pouco puxada e cansativa. Mas o conhecimento tecnico, profissional e pessoal que adquiri ate aqui faz valera pena.

Did participating in the skills competitions and training for WorldSkills help you progress in your skill? Please describe.
Com certeza. Gra(:as ao treinamento e ao contato com tecnicos e profissionais de todo mundo e possivel evoluir e criar novos metodos alem de adquirir mais conhecimento .

What do you currently do? Where do you work?
Atualmente eu s6 me preparo para o WorldSkills. Mas treino no SENAI.


What are your future career aspirations?
Alem de poder ajudar mais alunos e competidores passando todo o conhecimento que obtive, espero poder trabalhar com projetos na area de telecomunicac;oes ou redes.

Profile in other languages: