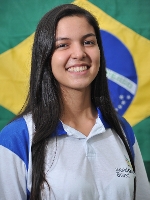 Vanessa Silva
Competitor in Skill: Concrete Construction Work
Country: Brazil
Where did you do your training for your skill?
Treinei no Estado de Mato Grosso, cidade de Cuiaba, na Escola Senai da Construcao .

How did you first find out about your Member organization and its programs?
Ouvi pela primeira vez sobre o membro organizador pela televisao, depois quando comecei a fazer curso no senai, divulgaram a etapa estadual, nacional e internacional do programa .

Who influenced you to pursue your skill as a career7
Eu ja gostava muito da area, mas depois que comecou os treinamentos eo nosso expert nos mostrou como era interessante e importante essa profissao, foi uma motivacao a mais para escolher seguir na carreira .

What is your experience in participating with your Member organization7
Eu comecei fazendo curso na area de gestiio (Auxiliar administrativo e Auxiliar de pessoal) , depois fui para a parte tecnica (tecnico em edificac;oes), participei da etapa nacional na ocupac;ao de Jardinagem e Paisagismo , agora estou na WorldSkills.


Describe your most memorable moment so far with WorldSkills7
Foi a semana em que participamos da prova de selec;ao para definir a dupla que iria representar o Brasil, pois passamos por muitas dificuldades na prova, tivemos alguns erros, mas mesmo assim nos conseguimos nos classificar, e estamos aqui representando o nosso Pals.


Describe what your experience has been since your involvement with WorldSkills.
E uma experiencia maravilhosa, nos temos os melhores treinamentos, temos a oportunidade de treinar por com experts de outros pafses, e acima de tudo aprendemos muito sobre a nossa profissao , somos muito capacitados para o mercado de trabalho .


Did participating in the skills compet itions and training for WorldSkills help you progress in your skill7 Please describe .
Ajudou muito, hoje posso me considerar a unica mulher do Brasil a ter esse t reinamento especifico na area de construc;ao de formas para concreto .


What do you currently do? Where do you work7 Atualmente eu so faco o treinamento para a WorldSkills .


What are your future career aspirations?
Eu acredito que a minha carreira vai ser otima, ainda mais por participar em uma competic;ao mundial em uma area especifica, a construcao civil que eu tanto gosto .
Profile in other languages: