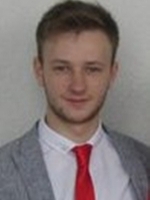 MIKITA TSVIATKOU
Competitor in Skill: Cooking
Country: Belarus
How did you get interested in your skill?
Upon graduation from the college I became interested in modern culinary arts after viewing various video materials and pictures on the Internet.

Where did you do your training for your skill?
Mogilev state University of Food Technologies
Academia del gusto (Italy)

How did you first find out about your Member organization and its programs?
Olga Matsikova , WSC expert from Belarus, let me know about the program

Who influenced you to pursue your skill as a career?
My parents

What is your experience in participating with your Member organization?
WSC Belarus-2015
WSC Russia -2015 (Kazan)

Describe your most memorable moment so far with WorldSkills?
Participation in WSC Russia -2015 (Kazan). Silver medal.

Describe what your experience has been since your involvement with WorldSkills
I got acquainted with new dishes of worldwide cuisine, modern trends and technologies, molecular gastronomy (molecular cuisine).

Did participating in the skills competitions and training for WorldSkills help you progress in your skill? Please describe.
Yes. It did. There are a lot of new ideas connected with cooking unusual dishes where modern technologies are partly applied. It helped to estimate time necessary for cooking and serving.

What do you currently do? Where do you work?
Restaurant "Shale" , chef

What are your future career aspirations?
I'd like to become chef of my own restaurant of exquisite modern Belarusian cuisine and motivate students of professional and higher institutions of educations to progress in their skills and promote Belarusian cuisine.