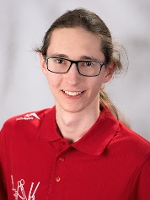 Markus Klein
Competitor in Skill: Mobile Robotics
Country: Austria
How did you get interested in your skill?
Through an after school activity.

Where did you do your training for your skill?
In my school's robotic lab.

How did you first find out about your Member organization and its programs?
One of my teacher told me about it.

Who influenced you to pursue your skill as a career?
My school and technical education.

What is your experience in participating with your Member organization?
Very positive. They are well organized and give their best in preparing us for the competition.

Describe your most memorable moment so far with WorldSkills?
When my team member and I won the national competition, making us a competitor at World Skills.

Describe what your experience has been since your involvement with WorldSkills
Pretty good, everything is organized really well.

Did participating in the skills competitions and training for WorldSkills help you progress in your skill? Please describe.
Of course. I learned a lot about mechanical engineering and electronics.

What do you currently do? Where do you work?
I attend the information technology department at TGM, a HTL (a higher technical school) in Vienna.

What are your future career aspirations?
I am not sure yet. After my graduation at my current school, I plan to study computer science at a university.