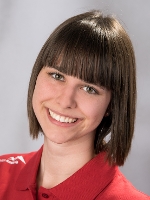 Jacqueline Tanzer
Competitor in Skill: Graphic Design Technology
Country: Austria
How did you get interested in your skill?
I was always interested in creativity and drawing, so I concentrated on these skills during my education.

Where did you do your training for your skill?
At home and also at work.

How did you first find out about your Member organization and its programs?
In school.

Who influenced you to pursue your skill as a career?
Parents, teachers, friends, schoolmates etc.

What is your experience in participating with your Member organization?
Good experience, great support.

Describe your most memorable moment so far with WorldSkills?
I've already been at EuroSkills 2014, so what I so far experienced, the most memorable moments are still ahead, but it's always great to meet the new people that will be, for the next few months your team. To meet so many ambitious young people is fascinating.

Describe what your experience has been since your involvement with WorldSkills
It is an awesome experience, there is so much support and team spirit. You have the chance to meet great people and to make good friends. And there is so much to learn about yourself.

Did participating in the skills competitions and training for WorldSkills help you progress in your skill? Please describe.
Participating in such a competition is not just valuable for your skill, it is an experience for live. Sure you can notice a progress in your skill but you also learn a lot more.

What do you currently do? Where do you work?
I work at MPREIS in Tyrol. In my area this is a wide-spread supermarket chain. I work there as a graphic designer since July 2014.

What are your future career aspirations?
Next aspiration is to do a good job in Sao Paulo and there are no further plans for me yet. Concentration is now on Worldskills and everything else will come along afterwards.