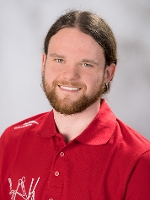 Marius Golser
Competitor in Skill: Architectural Stonemasonry
Country: Austria
How did you get interested in your skill?
Durch Meinen Großvater der auch schon Steinmetz war und mein Interesse Handwerklich und Kreativ zu arbeiten.

Where did you do your training for your skill?
In der Firma meines Trainers und auch privat im Betrieb.

How did you first find out about your Member organization and its programs?
Durch das Steinzentrum Hallein

Who influenced you to pursue your skill as a career?
Alle die mir so viel positive Kritik für meine Arbeiten zugesprochen haben.

What is your experience in participating with your Member organization?
Gute, sehr motivierende und Gruppendynamische Organisation.

Describe what your experience has been since your involvement with WorldSkills
Es ist auf alle Fälle eine große Ehre und auch viel Verantwortung für mich , Österreich im Beruf Steinmetzerei zu vertreten!

Did participating in the skills competitions and training for WorldSkills help you progress in your skill? Please describe.
Ja, vorallem das training mit meinem Trainer ist sehr vördernd. Ich hatte von Anfang an ein gutes Gefühl für mein Handwerk doch durch das Training habe ich noch einiges an effizienteren arbeiten und herangehensweißen dazugelernt

What do you currently do? Where do you work?
Ich arbeite im Steinmetzmeisterbetrieb Kienesberger und bin dort im täglichen Betrieb im einsatz und nebenher trainiere ich für die Worldskills

What are your future career aspirations?
Ich will Berufserfahrun sammeln, die Meisterprüfung ablegen und später mal einen kleinen Kunsthandwerksbetrieb aufmachen.
Profile in other languages: